Taiwan on bike (02. may - 24. may 2019)
Taipei, sightseeing og Hui Chi. (Update 30. maj 2019)

Så blev det tid til et nyt eventyr. Denne gang har vi planlagt en tre ugers tur til Taiwan.
Taiwan har stået på vores ønskeliste i et godt stykke tid, så efter vi havde købt vores flybilletter med KLM i januar, kunne det ikke gå hurtigt nok med at komme afsted.
Inden vi rejste, havde vi set utallige af videoer på youtube bl.a omkring hvad vi kunne forvente at spise og hvad der var at se, vi havde også læst om andre der havde cyklet der. Eller skal vi sige Heidi havde læst om en masse. Jeg mere doven og vil hellere se en video og få informationer derfra.
Vi er så heldige, at vi har en god ven og forhenværende kollega som hedder Hui Chi som er Taiwaneser og bor i Taipei, så det var meget nærliggende at vi skulle mødes med hende.
Vi ankom fredag d. 03. maj 2019 om eftermiddagen efter en flyvetur på 12 timer fra Amsterdam. Hjemmefra havde vi bestilt en stor taxavan og pickup service, så vi hurtigt kunne komme fra lufthavnen til vores hostel i bydelen - Wanhua og så vi var sikker på der ville være plads til alt vores bagage.Turen med taxa tog ca. 50 minutter og kostede 1.300 TWD som svare til ca. 290,- dkr.
Det tog kun 45 minutter at komme igennem immigrationen og få vores baggage. Så alt gik som det skulle.
Vi var ved vores hostel lidt før klokken 17.
Personalet var så imødekommende og søde. Cykelkasserne kunne stå i receptionen, uden problemer og for at det ikke skulle være løgn, havde Hui Chi været forbi med en velkomst gave til os, som var en lille pose med to Taiwan øl og et velkomst brev. En helt fantastik start på vores tur.
Meander Hostel som stedet hed vi boede på, ligger på ChengDu Road, helt perfekt i forhold til undergrundsbanen og ting der skulle opleves. For ikke at snakke om at cykel ud af Taipei, der havde vi også valgt rigtigt. Det var super let at cykle ud af byen derfra. Et overnatningssted vi ville vende tilbage til hvis vi skulle til Taipei igen.
Vi fik vores værelse og hvilede i en time. Så fik vi samlet cyklerne i løbet af en time og cykelkasserne kunne vi få opbevaret i kælderen på hostellet. Så vi var sikker på at de var der når vi kom tilbage fra cykelturen.
Allerede først aften fik vi smagt på forskellige ting. Allerførst fik vi en bubble milk tea. Det er te med mælk og mørke tapioka perler i. Tapioka laves af stivelsen fra cassava/maniok rod og andvendes i vid udstrækning i Asien. Teen drikkes med et sugerør der er extra tykt, så perlerne kan suges op. Konsistensen minder om vingummi.
Vi havde smagt bubbletea før, så vi vidste lige hvad vi ville have og skal vi ikke bare være ærlige og sige: Vi ELSKER bubbletea.
Vi prøvede også deep fried chicken nuggets med en form for sød mayonnaise. Det var Heidi ikke den store fan af. Inden vi gik tilbage til vores hostel, smagte vi en taiwanesiske pandekage med æg og bacon.
Efter en god nattesøvn, var vi klar til at mødes med Hui Chi og se nærmere på Taipei.
Vi fik fyldt depoterne op med morgenmad på hostellet. Morgenmaden var den traditionelle risgrød med søde kartofler som dryssede med flosset gris. Vi gik all in og gjorde som de lokale, så ned med en god portion risgrød.
Tre i en kaffe og et par toast med peanutbutter og chokolade creme.
Vi havde aftalt med Hui Chi at vi skulle mødes klokken 10 i receptionen. Hun lignede sig selv og lige fra første gensyn gik snakken. Da vejret var OK, blev vi enige om at tage ud til Taipei 101 tower.
Taipei 101 er en 106-etager høj bygning. Bygningen har 101 etager over jorden, deraf navnet, og 5 underjordiske etager. Bygningen er 508 m høj og var verdens højeste fra 2004-2009 – hvor den blev overgået af Burj Khalifa i Dubai. Fraregner man begge bygningers antenner er Taipei 101 højest.
Taipei 101 indeholder verdens to hurtigste elevatorer og er på mange måder den mest teknologisk og advancerede skyscraber i verden, der har en tophastighed på 63 km/t og kan bringe folk fra stuen til 89. etage på blot 39 sekunder. Der er ligeledes blevet brugt megen teknisk kunnen for at sikre tårnet mod de mange jordskælv og tyfoner der årligt rammer Taiwan.
Det tog ikke lang tid at komme ud til tårnet. Fra Xiemen undergrundsbane var det en tur på små 20 minutter, med et skift undervejs.
Vi fandt hurtigt ud af at det ikke var den bedste dag at besøge tårnet. Der var et kæmpe arrengement: Taipei 101 Run up 2019. Hvor mere end 5000 deltager fik lov til at løbe op til toppen af bygningen ad 2046 trappetrin eller skal vi sige 91 etager. Den hurtigste kvinde havde gjort det på 13:12 minutter.
Godt nok skulle vi ikke tage trapperne for at komme op og se den utolige udsigt over millionbyen, men derfor var der stadig væk en lang kø og mere end en times ventetid for at komme op med elevatoren.
Når det er sagt, så var det ventetiden værd. Vi havde udsigt ud over byen og til bjergene mod syd, havet mod nord og her oppefra fik vi virkelig indtrykket af hvor stor byen egentlig er med sine 2.7 millioner indbyggere.
Noget helt andet og virkelig specielt vi kunne se, var den kæmpe store vind damper der er monteret i toppen af tårnet. Vind damperen er med til at stabilisere tårnet, så det ikke svinger fra side til side.
Prøv og tryk på linket https://youtu.be/NYSgd1XSZXc og se hvordan den mægtige kugle på 660 tons kan svinge under et jordskælv.
Efter turen op i tårnet, var det tid til en kop kaffe og derefter tog vi undergrundsbanen til Beimen. Her er der et område under jorden der hedder Y. Hui Chi havde fået anbefalet et bestemt sted med Kniv massage. Det var noget vi havde set via youtube hjemmefra og da vi altid er på udkig efter nye spændende ting, havde vi sat Hui Chi på opgaven. Så dette var stedet hun havde fundet frem til.
Vi bestilte 35 minutter half body massage. Nu skulle vi ligge os op på briksen med alt tøjet på og hovdet ned i et hul. Vi blev dækket til med tæpper, helt op over hovedet.
Først fik vi en smule almindelig massage i nakken og over skulderne for at løsne musklerne og derefter gik damerne igang med knivene.
En meget speciel oplevelse. Der bruges to knive som hakker med ens kraft ned over musklerne endda også i hovedbunden. Nogen gange ramte knivene hinanden, måske for at få det hele til at virke lidt farligt. Men alt i alt en dejlig oplevelse og tro mig musklerne var helt løsnet op bagefter.
Pris: 680,- TWD som svare til 150,- dkr
En god afslutning på en hyggelig dag sammen med Hui Chi og Taipei.
Da Hui CHi hentede os næste dag, havde hun to kopper kaffe med til os. Så hun var sikker på vi fik en god kop kaffe fra morgenstunden.
Første stop blev ved et lokalt marked, som lå i nærheden af vores hostel og derefter gik vi hen for at opleve LongShan templet.
Templet er et af de største og ældste samt mest kendte i Taiwan og her kan man opleve tilbedere udøve Taoisme, Budisme og Mazu. Der var mange mennesker og her var en summen af forskellige bønner og duften af røgen fra de mange røgelsespinde der sendte deres duft ude over pladsen.
Der bliver bedt om mange forskellige ting eks ønsket om en god eksamen og rigdom eller som Hui Chi kunne fortælle os om en kvinde der var meget ihærdig med at bede en bøn: hendes ønske var at blive slank ;-).
Det skal siges hun var slank i forvejen.
Fra Longshan templet tog vi undergrundsbanen til National Chiang Kai-Shek Memorial Hall.
Et kæmpe monumet der er bygget til minde om lederen af Republikken Kina fra 1928 - 1975.
Han var en person med stærke antikommunistiske holdninger og han forsøget at lave en moderne Guomindang-stat. Hvilket desværre mislykkedes, da bønderne, efter de blev udplyndret tilsluttede sig komunisterne.
Memorial Hall er en impornerende og flot bygning der ligger højt hævet over en stor plads. Inde i bygningen er der en statue af Chiang Kai-Shek. Statuen bliver bevogtet døgnet rundt og her kan man opleve vagteskifte hver time. Hvilket er en sand oplevelse.
Under bygningen findes et stort museum, hvor hele historeien omkring Kai-Shek tid kan opleves.
Altsammen meget flot og interessant.
Så blev det tid til at sige farvel til Hui Chi. Hun skulle flyve til London næste dag, så vi tog afsked ved 18 tiden. Så hun kunne nå at komme hjem og pakke.
Vi skulle selv have ordnet de sidste ting inden vi næste dag ville cykle ud af Taipei og på opdagelse, hvilket vi virkelig glædede os til.
Vi havde nydt to dejlige dage sammen med Hui Chi og var spændte på hvordan det ville blive at cykle i Taiwan.


---
Taipei, Sightseeing and Hui Chi. (Update 30. maj 2019)
Now it was time for a new adventure. This time we planned a three weeks trip to Taiwan.
Taiwan has been on our wish list for quite some time, so after we had bought our airline tickets with KLM in January, it was hard for us to wait.
Before we traveled, we had seen countless videos on youtube including what we could expect to eat and what was to see, we had also read about others who had cycled there. Or should we say Heidi had read about a lot of things in Taiwan. I am more lazy and would rather watch a video and get information from there.
We are so lucky that we have a good friend and former colleague named Hui Chi who is Taiwanese and living in Taipei, so it was very obvious that we should meet with her as well.
We arrived Friday the 3rd of May 2019 in the afternoon after a 12-hour flight from Amsterdam. From home we had booked a large taxi and pickup service, so we could quickly get from the airport to our hostel in the district - Wanhua and so we were sure there would be room for all our luggage. 50 minutes ride and at the cost 1,300 TWD which corresponds to approx. 290, - dkr.
It took only 45 minutes to get through the immigration and get our luggage. So everything went as it should.
We were at our hostel just before 5pm.
The staff were so welcomming and sweet. Our big bike boxes could stand at the reception, without any problems and guess what, Hui Chi had already been at the hostel with a welcome gift for us, which was a small bag of two Taiwan beers and a welcome letter. An absolutely fantastic start to our trip.
Meander Hostel was the place we were living is located on ChengDu Road, perfect for the subway and things to experience. In order not to talk about to cycle out of Taipei, we had also chosen the right place. It was super easy to cycle out of town from there. An accommodation we would return to if we were going to Taipei again.
We got our room and rested for an hour. Then we assembled the bikes within an hour and the bicycle boxes we could get stored in the basement of the hostel. So we were sure they were there when we returned from the bike ride.
Already the first night we got a taste of different things. First of all we got a bubble milk tea. It is tea with milk and dark tapioca pearls in. Tapioca is made from the starch from cassava / manioc root and is widely used in Asia. The tea is drunk with an extra thick straw so that the peals can get though the straw. The texture is reminiscent of wine gum.
We had tasted bubbletea before, so we knew just what we wanted and we should maybe just be honest to say: We LOVE bubbletea.
We also tried deep fried chicken nuggets with a kind of sweet mayonnaise. Heidi wasn't a big fan of it. Before going back to our hostel, we tasted a Taiwanese pancake with eggs and bacon.
After a good night's sleep, we were ready to meet with Hui Chi and take a look at Taipei. We filled up with breakfast at the hostel. Breakfast was the traditional rice porridge with sweet potatoes wich you sprinkled with schredded pork. We went all in and did as the locals, so down with a good portion of rice porridge. Three in one coffee and a couple of toast with peanut butter and chocolate cream. We met with Hui Chi at 10 o'clock in the reception. She looked like herself and right from the first glance the talk went on. As the weather was OK, we decieded to go to Taipei 101 tower.
Taipei 101 is a 106-storey building. The building has 101 floors above the ground, hence the name, and 5 underground floors. The building is 508 m high and was the world's highest from 2004-2009 - where it was surpassed by Burj Khalifa in Dubai. If you ignore both buildings' antennas, Taipei 101 is the highest. Taipei 101 features the world's two fastest lifts and is, in many ways, the most technologically advanced and skyscraper in the world with a top speed of 63 km / h and can bring people from the first floor to the 89th floor in just 39 seconds. Much technical skill has also been used to secure the tower against the many earthquakes and typhoons that hit Taiwan annually.
It didn't take long to get to the tower. From the Xiemen subway station it was a short 20-minute ride, with one change along the way. We soon found out that it was not the best day to visit the tower. There was a big event: Taipei 101 Run Up 2019. Where more than 5000 participants were allowed to run to the top of the building by 2046 stairs or we should say 91 floors. The fastest woman had done so in 13:12 minutes. Well enough, we should not use the stairs to get to the top and see the gigantic view of the million-city, but therefore there was still a long queue and more than an hour's wait to go up with the lift. That said, it was worth the wait. We had an amazing view of the city and the mountains to the south, the sea to the north and from here we really got the impression of how big the city really is with its 2.7 million inhabitants. Something completely different and really special we also could see was the big wind damper mounted at the top of the tower. The wind damper helps stabilize the tower so that it does not swing from side to side. Try and hit the link https://youtu.be/NYSgd1XSZXc and see how the mighty 660-ton ball can swing during an earthquake.
After the trip to the tower, it was time for a cup of coffee and then we took the subway to Beimen. Here is an area below the ground called Y. Hui Chi had been recommended a specific place with knife massage. It was something we had seen through youtube and since we are always looking for new exciting things, we had put Hui Chi on the job. So this was the place she had found. We ordered 35 minutes half body massage.
We had to lie on the couch with all the clothes on and the head down in a hole. We were covered with blankets, all the way up over our heads. First we got a bit of regular massage in the neck and over the shoulders to loosen the muscles and then the ladies went on with the knives. A very special experience. Two knives are used to chop with one's power down the muscles and even on the scalp. Sometimes the knives hit each other, maybe to make it all seem a little dangerous. But all in all, a wonderful experience and believe me the muscles were completely loosened up afterwards.
Price: 680, - TWD equivalent to 150, - dkr. A good end to a nice day with Hui Chi and Taipei.

When Hui Chi picked us up the next day, she brought two cups of coffee to us. So she was sure we had a good cup of coffee from the start of the day.
The first stop was at a local market near our hostel and then we went to see the LongShan Temple.
The temple is one of the largest and oldest and most well-known in Taiwan and here one can experience worshipers practicing Taoism, Budism and Mazu. There were many people and you could hear a lot of different prayers and the smell of the smoke from the many incense sticks that sent their scent out across the square.
Many different things are being asked for, such as the desire for a good exam and wealth or as Hui Chi could tell us about a woman who was very keen on doing a prayer: her desire was to become slim.
It must be said she was slim allready;-)
From the Longshan Temple, we took the subway to the National Chiang Kai-Shek Memorial Hall.
A huge monument built in memory of the leader of the Republic of China from 1928 - 1975.
He was a person with strong anti-communist attitudes and he attempted to make a modern Guomindang state. Which unfortunately failed when the farmers, after being robbed, joined the Communists.
Memorial Hall is an imposing and beautiful building that is raised high above a large square. Inside the building there is a statue of Chiang Kai-Shek. The statue is guarded around the clock and here you can experience the gaurds change every hour. Which is a true experience.
Beneath the building there is a large museum where the whole history of Kai-Shek time can be experienced.
All very nice made and interesting.
Then it was time to say goodbye to Hui Chi. She was flying to London the next day, so we said goodbye at 6 o´clock. So she could get home and pack for her journey
We had to arranged the last things ourselves for the next day and get ready to explore Taiwan by bike.
We had enjoyed two wonderful days with Hui Chi and it was really great to meet up with her after all these years.
JaYoe Taiwan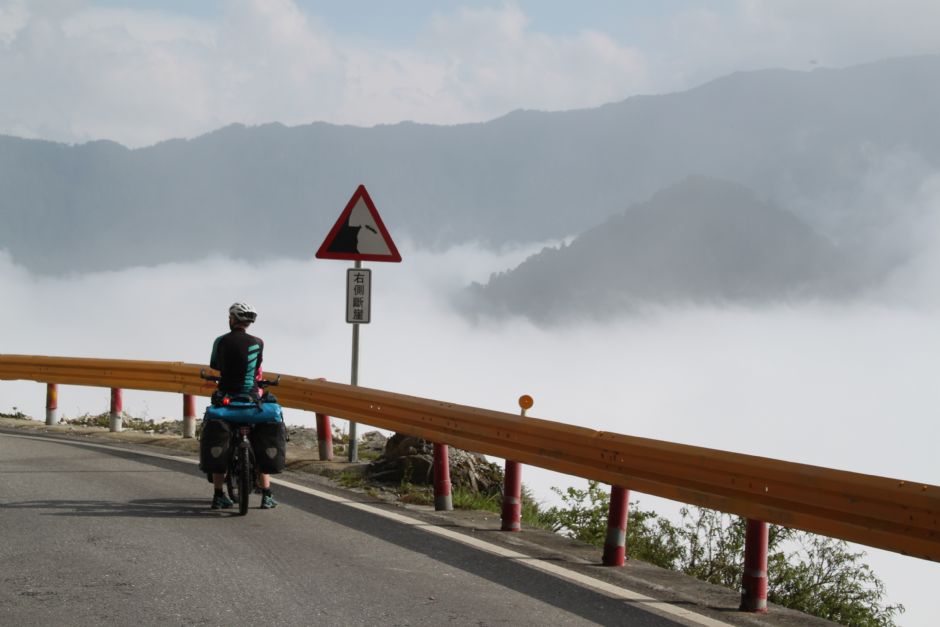 Mandag 6. maj 2019 - Fredag 10. maj 2019 (Update 01. juli 2019)

Taipei - Fuxing 45 km
Fuxing - Ming Chih Resort 49 km
Ming Chih Resort - Nanshan 52 km
Nanshan - Lishan 46 km
Lishan - Shelter ved Wahei Er Xi floden 67 km
Dagen startede stille og rolig med et bad, pakke de sidste ting, spise morgenmad og tjekke vores planlagte rute på maps.me inden vi bagav os afsted ud af Taipei.
Vi havde udset os et punkt ved ved floden som fulgte vej 64, for kom vi ud til det punkt kunne vi følge cykelstien som gik langs med floden til byen Sanxi, hvor vi skulle følge vej 3 for derefter at deje af på Vej 7, som skulle føre os op i bjergene til de små veje, som vi havde læst skulle være uden ret meget trafik og smukke.
Der var ikke meget trafik sådan en mandag morgen og efter godt 12 kilometer havde vi fundet ud til floden og til cykel stien. Her var båden en cykelsti og en sti som kun var lavet til scooter. Langs med stierne var der endda toiletter.
Vi cykelde stille og roligt afsted og stoppede af og til. Efter 20 kilometer nåede vi til Sanxi og var kommet ud på
vej 3. Vi kunne se på maps.me at inden alt for længe skulle vi deje fra så vi kom ind på vej 7, som vi skulle følge op over vores første bjergpas og nok også de næste par dage, men inden vi gjorde det tog vi vores første pause på 7/11.
Her kunne vi købe alt hvad en cykelist har brug for at kalorier og drikke. Vi havde ikke købt noget proviant af betydning, da vi havde hørt at 7/11 lå rigtig mange steder og at vi altid kunne købe et måltid og proviant der.
Vores plan var at finde et sted at slå vores telt op, når vi kom hen sidst på dagen.
Vi vidste ikke hvor langt vi vill cykle og hvor hårdt det ville være at cykel i bjergene, så vi købte lidt af hvert, så vi kunne stoppe når det passede os og når vi fandt et passende sted at slå lejr.
Cyklerne blev betydelig tungere, da vi også skulle havde vand med og for at være sikker på vi havde nok, tog vi hver 5 liter, som jo nok svare til 5 kilo extra på cyklen.
Da vi cyklede afsted fra 7/11 begyndte det at regne, så vi fandt vores regntøj frem. Det var ikke koldt, så kombinationen af regntøj og en svedig krop var ikke det fedest.
Vi har regnbukser og regnjakke og bukserne klister sig fast til benene efter kort tids cykling på gurnd af sveden. Så nogen gange tænker man, er det virkelig bøvlet værd at have bukserne på, da man bliver svedig og klam afligevel.
Efter 5 kilometer på vej 7, fandt vi et lille tempel hvor vi bestemete os for at holde frokost pause.
Der var et bord og nogle stole foran templet og et lille udhæng hvor vi kunne siddde i tørvejr.
En anden ting der var perfekt, var en stikkontakt med strøm, hvor vi kunne lade min telefon op. Den var allerede godt brugt, da vi havde brugt den til at navigere efter.
Så alt i alt en win win situation på de små tawanesiske veje.
Alt langs med vejen var grønt i grønt og frodigt. Bilerne var forsvundet og det var kun af og til at en bil kørte forbi os.
Vi kunne se bjergene af og til stikke op igennem tågen der dannede sig på grund af varmen og fugtiheden. Virkelig smukt og allerede på denne første cykeldag,havde vi en fornemmelse af at vi nok kom til at syntes rigtig godt om Taiwan.
Vi cyklede stille og roligt mere og mere opad. Vejeret skiftede hele tiden, lidt regn så opholdsvejr og så regn igen.
Da vi nåede op på toppen af dagens højeste punkt tog regnen til og vi stod lidt i læ under nogle udhæng der var ved de frugt boder der lå heroppe. Vi blev fristet af nogle flotte store ferskner og købte tre stykker.
Der var også kommet mere tung trafik i form af en del lastvogne og da det var ved at være sidst på eftermiddagen, begyndte vi at kigge efter et egnet sted at slå lejr.
Det var ikke så let, da jorden var meget våd efter regnen og skråningerne fra bjergen gik helt ned til vejen.
I et svig så vi et sted hvor det så ud til der var noget overnatning og en restaurant, så vi lod cyklerne rulle ned på pladsen foran det der lignede en reception. Men stedet så ud til at være lukket. Der var udsigt ned over en sø og bagerst på pladsen var en stor græsplæne. Men igen var alt plask vådt. Så vi trak cyklerne tilbage til det der lignede receptionen og her foran var der et areal med borde og stole og en lille scene under et tag.
Det kiggede vi nærmere på og vi gik om bagved. Der var ingen mennesker, kun en sølle lille hund som stod bundet. Hvis det skulle være en vagthund gjorde den ikke sit arbejde ret godt, den kiggede bare på os unden så meget som at gø.
Der var også toiletter og bad, men det havde ikke været brugt længe. Men vi kunne bruge det og vi besluyttede os for at atge chancen og sætte teltet op under taget. Hvis ejern kom ville vi bare spørge om det var iorden og kom der ingen var det som det var.
Stedet var perfekt. Vi kunne bruge stolene og bordene til at sidde og spise ved. Der var to tunge bænke, som vi brugte til at stille i hver sin ende at teltet. så kunne de bruges som anker og teltet kunne spændes ud imellem. Vi kunne jo ikke hammre pløkkerne i cement gulvet.
Et andet plus var at vi kunne pakke teltet samme tørt næste dag.
Selvfølgelig var vi lidt på vagt når en bil kom kørende oppe på vejen, men det var kun indtil det blev mørkt. Så var der ingen der tænkte at dernede under halvtaget er der to der campere.
Vi skal nok lige nævne at, da vi havde lagt os til at sove, var der et eller andet dyr som knurrede lige udenfor vores telt. Det var ikke så sjovt, men vi råbet bare højt: Go away og derefter var der ro.
Men selvfølgelig gør det at man ligger og lytter af og til iløbet af natten. Men det er jo en del af det at tage chancen og camper wildt. ;-)
Da vi stod op næste dag og kiggede ud af teltet, fik vi syn for sagen. Udenfor teltet lå en stor flok hunde og faktisk havde vi overset en anden vagthund i et andet bur kun få meter fra hvor vi havde slået teltet op.
De lyde vi havde hørt i løbet af natten, var når hunden i buret havde gnavet løs på sit kødben og det var nok en af de andre hunde der havde knurret uden for vores telt.
Regnen var holdt, da vi cyklede afsted lidt efter klokken 9. De første 10 kilometer cyklede vi opad. Vejen snoede sig igennem en dal og overalt voskede der mos på siderne af skrænterne og afskærmingerne langs med vejen.
Der var ikke ret meget mere end plads til en bil, bredere var vejen ikke og flere steder var vejen beskidigt af sten der var faldet ned langt oppe fra.
Vi så små og store vandfald og vi kunne kigge langt ned i dalen og på langt oppe påbjergskråningerne så vi små huse og tænkte hvor meget arbejde det har taget at få dem bygget såden et sted.
På et tidspunkt måtte vi holde, da der havde været et stenskred, store sten lå på vejen, så en vejarbejder holdt øje med os og sendte os afsted da han fik grønt lys via sin walkie talkie. Da han vinkede os frem, råbte han Spice Girls!! Det var nok det eneste engelsk lydende han kunne komme på. Men det fik os til at grine højt og efterfølgende blev vi enige om at vi begge måtte være sporty spice.
Vi var godt cyklende og til middag nåede vi til byen Baling. Frokost spiste vi på en lille restaurant, hvor vi bestilte Kylling, ris, grøntsager, svampe og svampesuppe og en pot te. Alt blev spist rub og stub.
Efter Baling skulle vi virkelig finde vores bjergben frem, stød og roligt bevægede vi os op indtil vi nåede dagens højeste punkt - 1170 m. Vi havde udset os noget der hed Datong på maps.me, da vi troede det var en lille by, men det var kun to huse og der var ingen steder at slå vores telt op.
Igen var det begyndt at regne og det regnede meget, så vi blev godt våde.
Vi cyklede yderlig 3 - 4 kilometer til vi nåede til Ming Chih Forrest Resort. På maps.me så det ud til der var et område, som kunne være til pic nic, men det var en stor parkerings plads der hørte til det store hotel der lå heroppe.
Hotellet så meget dyrt ud, så i første omgang var det ikke en løsning for os. Vi ville gerne finde et sted vi kunne slå teltet op også selvom alt var meget vådt.
Nu forsatte vi 1 kilometer ned til en sø, hvor der lå en park. Det var åbentbart en park man skulle betale for at besøge, for den var hegnet ind og der var en indgang hvor man kunne betale, når der var åbent.
Først undersøgte vi om vi kunne komme ind bag ved hegnet og så slå teltet op under et af halvtagene der var i parken. Det var ikke en løsning, for så skulle vi bryde ind.
Næste forsøg blev et hus som lå overfor parken. Men der var ingen hjemme, så så Heidi at der lå en politistation lidt nede af en sidevej. Så vi ville spørge om der var et sted vi kunne slå vores telt op.
Politibetjenten på stationen, var meget hjælpsom og bød os indenfor. Han kunne ikke tale engelsk, men via hans telefon og google translate kunne han forklare os hvad han sagde.
Først forsøgte han ved huset vi lige havde været ved om vi måske kunne sove der. De havde et sted hvor to biler stod under et tag, hvis de flyttede dem kunne vi slå teltet op der. Men da de havde flyttet den ene bil, kunne vi se der stod vand på gulvet, så det var ikke en løsning.
Nu gik vi tilbage på stationen og betjenten lavede te til os. Vi var blevet noget afkølet, da vi var helt gennemblødte af regnen og der var nok kun omkring 15 grader.
Betjenten ringede rundt og til sidst sagde han at vi skulle komme med ham. Nu gik vi tilbage til det store hotel. Gad vide hvad han havde fundt på til os???
Vi kom ind i receptionen og betjenten fik personalet til at forklare os hvad deres ide´ var. Vi måtte sove på gangen udenfor alle andre værelser enten på denne etage eller den etage over receptionen.
Vi var målløse, at de ville gå med til det, men vi syntes det blev lidt for meget. Vi vil gerne spare penge når vi rejser, men fattige er vi altså ikke og vi syntes også at det ville virke forstyrrende på alle de andre gæster som boede på hotellet.
Så vi spurgte hvad et værelse kostede. Det viste sig at for 600,- kr kunne vi få en træhytte og i prisen var der morgenmad. Det var en god deal for os og så kunne vi blive tørre til næste dag.
Betjenten var megte bekymret for om vi også havde pengene til det. Vi forsikrede ham at det skulle han ikke være bekymret for.
Han blev ved med at spørge om det var OK. Da han ikke kunne hjælpe os, som han havde ønsket insisterede han på at lave mad til os. Men det afslog vi venligt. Klokken var ved at være mange og vi var kolde og trætte. Vi takkede mange gange for betjentens hjælp og fandt vores hytte.
Faktisk var det så køligt at vi var nødt til at tænde for varmen i hytten.
Aftensmad blev quicknudler og en snickers til dessert. Da vi var færdige med at spise, bankede det på vores dør og udenfor stod to fra receptionen. Det viste sig at betjenten havde fået hotellet til at lave to madpakker til os, så nu fik vi hver 3 boller med marmelade, toast, smør og kiks plus en stor kop varm kaffe. Sikken en gestus og så overraskende.
Vi blev enige om at vi skulle forbi politistationen næste morgen for at sige tak for alt betjenten havde gjort for os.
______________________________________________________________________________
ENGLISH
Monday, May 6, 2019 - Friday May 10, 2019 (Update 01. july 2019)
Taipei - Fuxing 45 km
Fuxing - Ming Chih Resort 49 km
Ming Chih Resort - Nanshan 52 km
Nanshan - Lishan 46 km
Lishan - Shelter at Wahei Is Xi River 67 km
The day started quietly with a bath, packing the last things, eating breakfast and checking out our planned route on maps.me before leaving Taipei.
We had chosen a point by the river that followed road 64, because if we came to that point we could follow the cycle path that went along the river to the city of Sanxi, where we had to follow road 3 and then dive on Road 7, which should lead us up the mountains to the small roads we had read should be without much traffic and very beautiful.
There was not much traffic such a Monday morning and after just 12 kilometers we had found our way to the river and to the bike path. Here was both a bike path and a path that was only made for scooters. There were even toilets along the paths.
We rode quietly and stopped occasionally. After 20 kilometers we reached Sanxi and also found
road 3. We were able to look at maps.me and saw before long we had to turn off so we entered road 7, which we had to follow up our first mountain pass and probably also the next few days, but before we did we took our first 7/11 break of many to come.
Here we could buy everything a cyclist needs of calories and drinks. We had not bought any supplies of importance, since we had heard that 7/11 was located in many places and that we could always buy a meal and other stuff there.
Our plan was to find a place to pitch our tent later in the day.
We did not know how far we wanted to ride and how hard it would be to bike in the mountains, so we bought a little of everything so we could stop when it suited us and when we found a suitable place to camp.
The bikes became considerably heavier as we also had to carry water and to be sure we had enough, we took 5 liters each, which probably equals 5 kilos extra on the bike.
When we rode off from 7/11 it started to rain so we took out our rainwear. It was not cold, so the combination of rainwear and a sweaty body was not that nice.
We have rain pants and rain jacket and the pants stick to the legs after a short while cycling because of the sweat. So sometimes you think, it is really worth the trouble to wear your pants as you get sweaty and condens inside the pants anyways.
After 5 kilometers on road 7, we found a small temple where we decided to take our lunch break.
There was a table and some chairs in front of the temple and a small overhang where we could sit in dry weather.
Another thing that was perfect was a power outlet where we could charge my phone. It was already well used as we had used it to navigate.
So all in all, a win win situation on the tawan roads.
Everything along the road was green in green and lush. The cars had disappeared and it was only occasionally that a car drove past us.
We could see the mountains occasionally sticking up through the fog that formed due to the heat and humidity. Really beautiful and already on this first bike day, we had a feeling that we probably would get to likeTaiwan a lot.
We cycled quietly more and more upwards. The weather changed all the time, a little rain then it stopped and then rain again.
When we reached the top of this days highest point, it really started raining and we took shelter under some overhangs that were at the fruit stalls that were up here. We were tempted by some big juicy peaches and bought three pieces.
There was also more heavy traffic in the form of some trucks and as it was about to be late in the afternoon, we began to look for a suitable place to camp.
It was not so easy as the ground was very wet after the rain and the slopes from the mountain went down to the road.
In a bend we saw a place where it looked like there was some accommodation and a restaurant, so we let the bikes roll down on the square in front of what looked like a reception. But the place seemed to be closed. There was a view down to a lake and at the back of the square was a large lawn. But again everything was splash wet. So we pulled the bikes back to what looked like the reception and in front of it there was an area with tables and chairs and a small stage under a roof.
We looked closer and we went to the back of the building. There were no people, only a meager little dog who was tight up in a cage. If it were to be a watchdog, it did not do its job quite well, it just looked at us and did not even bark.
There were also toilets and baths, but it hadn't been used for long. But we could use it and we decided to take the chance and put the tent up under the roof. If the owner came we would just ask if it was okay and if nobody came we did not mind.
The place was perfect. We could use the chairs and tables to sit and eat at. There were two heavy benches that we used to set at each end of the tent. Then they could be used as anchor and the tent could be tensioned between them. It was not possible to hammer the pegs into the cement floor.
Another plus was that we could pack the tent totally dry the next day.
Of course we were a little on guard when a car drove by on the road a little above us, but it was only until it got dark. Then no one thought that down there under the roof are two campers.
We should just mention that when we had gone to sleep, there was some animal that murmured just outside our tent. It wasn't that funny, but we just shouted out loud: Go away and the animal was gone.
But of course, it makes you lie and listen occasionally during the night, but isn´t that part of the wild camping??? ;-)
When we got up the next day and looked out of the tent, we got a look for the matter. Outside the tent lay a large bunch of dogs and in fact we had overlooked another guard dog in another cage just a few meters from where we had pitched the tent.
The sounds we had heard during the night were when the dog in the cage had chewed on his meat bone and it was probably one of the other dogs that had growled outside our tent.
The rain stopped as we rode off just after 9 o'clock. The first 10 kilometers we rode uphill. The road wandered through a valley and everywhere moss grew on the sides of the slopes and the shutters along the road.
There was not much more space than for one car and in many places the road was broken with stones that had fallen down from far up the hills.
We saw small and large waterfalls and we could look far down the valley and on the far uphill slopes we saw small houses and thought how much work it has taken to get them built.
At one point we had to stop, as there had been a big rock fall on the raod, large stones were on the road, so a road worker watched us and sent us off when he got green light through his walkie talkie. When he waved us onwards, he shouted - Spice Girls !! It was probably the only English word he could come up with. But it made us laugh out loud and afterwards we said to eachother that we both had to be sporty spice.
We cycled very well and for dinner we reached the town of Baling. For lunch we ate at a small restaurant where we ordered chicken, rice, vegetables, mushrooms and mushroom soup and a pot of tea. Everything was eaten as we were very hungry.
After Baling we were really going to find our mountain legs as the road got mere steep, so quietly we moved up until we reached the highest point of the day - 1170 m. There was only two houses at this point and there was nowhere to pitch our tent.
Again it was starting to rain and it rained a lot, so we got very wet.
We cycled further 3 - 4 kilometer until we reached Ming Chih Forrest Resort. On maps.me it looked like there was an area that could be for pic nic, but it was a large parking lot belonging to the large hotel that was up here.
The hotel looked very expensive so at first it was not a solution for us. We wanted to find a place we could pitch the tent even though everything was very wet.
Now we continued 1 kilometer down to a lake where there was a park. It was obviously a park you had to pay to visit because it was fenced in and there was an entrance where you could pay when it was open.
First, we investigated whether we could get in behind the fence and then pitch the tent under one of the shelter roofs in the park. It was not a solution, because then we had to break in and that is against the law.
The next attempt was a house facing the park. But there was no one at home, then Heidi saw that there was a police station just down a side road. So we would ask if there was a place we could put up our tent.
The police officer at the station was very helpful and invited us inside. He couldn't speak English, but through his phone and google translate he could explain to us what he was saying.
At first he tried at the house we had just gone to. Could we sleep there? They had a place where two cars were under a roof, if they moved them we could put the tent there. But when they had moved one car, we could see there was water on the floor, so it was not an option.
Now we went back to the station and the officer made tea for us. We had been somewhat chilled when we were completely soaked by the rain and there was probably only about 15 degrees.
The officer called around and eventually he said we should come with him. Now we went back to the big hotel. Wondered what he had found for us ???
We got into the reception and the officer got the staff to explain to us what their idea was. We had to sleep in the hallway outside all other rooms either on this floor or on the floor above the reception.
We were speechless that they would let us do that, but we thought it was a little too much. We want to save money when we travel, but we are not poor, and we also thought it would be disruptive to all the other guests who stayed at the hotel.
So we asked what a room cost. It turned out that for 600, - we could get a wooden cabin and it included breakfast. It was a good deal for us and then we could get dry for the next day.
The officer was concerned about whether we also had the money for it. We assured him that he should not be concerned about that.
He kept asking if it was OK. Since he couldn't help us as he had wanted, he insisted on cooking for us. But we kindly refused. It was getting late and we were cold and tired. We thanked many times for the help of the officer and found our cabin.
In fact, it was so cool that we had to turn on the heat in the cabin.
Dinner was quick noodles and a snickers for dessert. When we finished eating, it knocked on our door and outside stood two from the reception. It turned out that the officer had got the hotel to cook two lunches for us, so now we each got 3 buns with jam, toast, butter and biscuits plus a large cup of hot coffee. What a gesture and so surprising.
We agreed that we should pass the police station the next morning to say thank you for everything the officer had done for us.